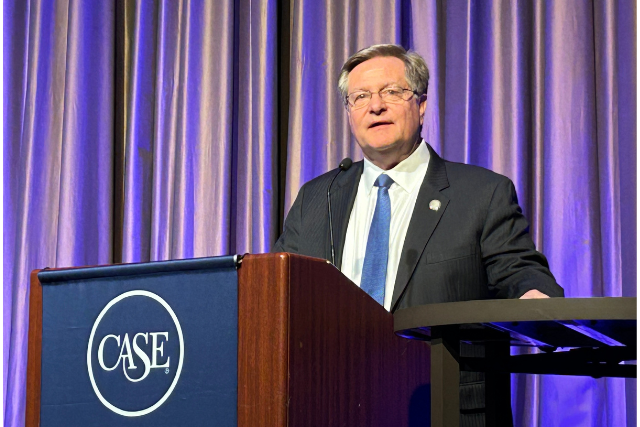 John Donohue, vice president of college advancement at The College of New Jersey, executive director of the TCNJ Foundation, and president of the Trenton State College Corporation, has been named Professional of the Year by The Council for Advancement and Support of Education.
Donohue, who serves as a member of President Kathryn A. Foster's Cabinet, oversees a portfolio of responsibilities at TCNJ that includes development, alumni engagement, communications, marketing, brand management, and government and community relations.
"John's contributions to the college can be seen and felt in every corner of our campus," Foster said. "He is a strong leader who encourages his colleagues and staff to strive for excellence on a daily basis. He cares passionately about our campus community and is deeply deserving of this award."
Donohue has led his team to a long and impressive record of achievement in his nearly 11 years at the helm of the Division of College Advancement. Notable milestones include the runaway success of the college's first comprehensive fundraising campaign, the introduction of a new graphic identity and brand for the institution, and the establishment of strong government and community partnerships.
As executive director of TCNJ Foundation, he oversees the nonprofit, tax-exempt corporation that solicits, receives, and administers gifts, bequests, and trusts for the benefit of the college.
In addition, he serves as the president of the Trenton State College Corporation, which oversees faculty/staff and specialty housing programs, strategic property acquisition, and management of college-owned property off campus.
"John represents the very best of our profession as a fundraiser, storyteller, and advocate," said Christen Conaway Jones, who currently serves as director of development at the Pennington School and spent six years working under Donohue at TCNJ. "But what really distinguishes him is his commitment to bringing out the very best in every single member of his team through his investment in their success. He has an uncanny ability to see a spark in a professional, nurture their strengths, support them and empower them to become the best version of themselves."
Donohue, who joined the college in 2012, accepted the award at a ceremony held on Tuesday, March 14 at the Sheraton Times Square in New York City. At the ceremony, he spoke of the importance of supporting the field, and how professionals doing the work can support each other.
"I want encourage you to think about who your mentors need to be, but just as important, think about who you can mentor," Donohue said. "Help your colleagues grow, grow the field, and make sure this profession stays energized, committed, and highly esteemed and regarded."
---
— Luke Sacks